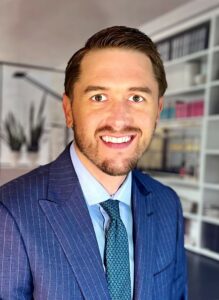 Eric Lomas is an experienced farm bankruptcy attorney with rural Kansas roots.  Driven by the same intellectual curiosity and work ethic cultivated as a youth in 4-H and FFA, Eric has a strong reputation for guiding, educating, and supporting Kansas farmers and ranchers and developing strategic solutions for financial problems.  He knows firsthand that farming is more than a livelihood—it is a way of life and a legacy worth preserving.
With undergraduate training in agricultural economics and over a decade of focused bankruptcy experience, Eric is uniquely equipped to assist Kansas farmers and ranchers.  He regularly consults with farmers and ranchers across Kansas to assess options, both in and out of court, and he is a trusted advisor to clients engaged in mediation or direct restructuring with lenders. 
Eric also assists farmers and ranchers with reorganizing their operations in bankruptcy court, including under Chapter 12 bankruptcy.  Eric's clients benefit from his special perspective and understanding of the bankruptcy process, gained from extensive experience representing debtors, as well as secured and unsecured creditors, in farm restructuring cases.
Clients like Eric's personable, respectful, yet straightforward attitude and his deep understanding of agriculture and farm bankruptcy law.  Clients also value Eric because he treats them as real people.  Eric is committed to providing clients with personal attention, returning their phone calls, and patiently explaining and answering questions—just like he would want to be treated if he were in their shoes.
Others notice Eric's skill and approach.  In addition to his law practice, Eric frequently makes educational presentations on bankruptcy law to lawyers and other legal groups.  Eric is a published author, and he is a spokesperson providing interviews and quotes to local and national media on bankruptcy law and farm bankruptcy topics.
Eric is named by Super Lawyers to the 2021 Missouri & Kansas Rising Stars List in the area of Business Bankruptcy.  He is also recognized in the 2022 edition of the Best Lawyers: Ones to Watch in America for his work in the areas of Bankruptcy and Creditor Debtor Rights / Insolvency and Reorganization Law and Bankruptcy Litigation.  While appreciative of these accolades, Eric's highest professional honor is that many of his new clients were referred from existing clients and fellow attorneys.
Eric is a member of the Wichita, Kansas law firm Klenda Austerman LLC, where he has practiced since 2010.  Bankruptcy attorneys at Klenda Austerman have over fifty years of combined experience, and the firm has been named a Tier 1 firm in Wichita for Bankruptcy and Creditor Debtor Rights / Insolvency and Reorganization Law by U.S. News – Best Lawyers® "Best Law Firms" in 2022.
Away from the office, Eric and his wife are parents to three young children of whom they are especially proud.  As time allows, he enjoys following Kansas State Wildcats football and basketball.  Eric's family runs a registered Angus cow-calf operation on a farm that has been family-owned for over 160 years.
Bankruptcy (Debtor / Creditor)
Washburn University School of Law (J.D., Dean's Honors)
Certificate in Business and Transactional Law
Kansas State University (B.S., Agricultural Economics)
Flinchbaugh Agricultural Policy Student Scholarship Recipient

Gamma Sigma Delta (Honor Society of Agriculture)

Outstanding Freshman in Grain Science 

Alpha Gamma Rho Fraternity (Chapter President, National Undergraduate Achievement Award Recipient)
U.S. District Court for the District of Kansas
U.S. District Court for the Western District of Missouri
Professional Associations
American Agricultural Law Association
American Bankruptcy Institute
American Bar Association
Business Law Section

Business Bankruptcy Committee

Consumer Bankruptcy Committee
Kansas Bar Association
Agricultural Law Section

Bankruptcy & Insolvency Section
National Association of Consumer Bankruptcy Attorneys
U.S. Bankruptcy Court for the District of Kansas
Bench-Bar Committee (Past Member)
Wichita Bar Association
Bankruptcy Committee (Past Chairman)
Best Lawyers: Ones to Watch in America, Bankruptcy and Creditor Debtor Rights / Insolvency and Reorganization Law (2022)
Best Lawyers: Ones to Watch in America, Bankruptcy Litigation (2022)
Missouri & Kansas Rising Stars, Bankruptcy: Business (2015-2021)
Martindale-Hubbell® Platinum Client Champion (2017-2022)
Martindale-Hubbell® Client Distinction Award (2013-2016)
Kansas Chapter 12 Farm Bankruptcy on the Rise, Klenda Austerman: What's on Our Minds (Jun. 5, 2019)
Consumer Counterpoint: The Point of No Returns – Late-Filed Returns are Not Considered "Returns" Post-BAPCPA, XXXII Am. Bankruptcy Inst. J. 5 (2013)
Chapter 7 and Chapter 13 Bankruptcy: Who, What, When, Where and Why for Non-Bankruptcy Paralegals (Kansas Association of Legal Assistants • Paralegals, 2020)
Skills for Bills: Essential Skills, Rules, Concepts and Strategies for Effective Representation of a Creditor in Bankruptcy (Kansas Bar Association, 2019)
The Elements: 523 Actions, Default Judgments and Relevant Case Law (Wichita Bar Association, 2019)
Bankruptcy Basics (Wichita Bar Association, 2019)
Ethics: Client Intake Best Practices (Wichita Bar Association, 2013)
Corporations and Limited Liability Companies (Wichita Bar Association, 2011)
New Bankruptcy Law Could Save Small Businesses Slammed by Virus, Bloomberg Law (Apr. 15, 2020)
U.S. Farm Bankruptcies Spike Amid Trade War, New Debt Cap, Bloomberg Law (Dec. 2, 2019)
Westwood Presbyterian Church, Elder